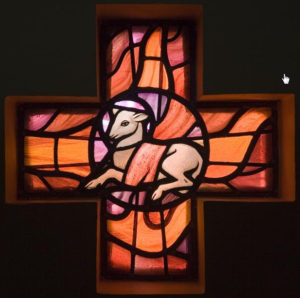 Since joining the ACC, I have had the opportunity to sing many different settings of the "Agnus Dei" portion of the Latin mass text. Each one is unique in its own right, and I think to myself that each new one I learn is my favorite. I have experienced this again as I learn the Rutter Requiem that the Chorale and Orchestra will perform in March. This is not your typical Requiem, with English text and Psalms being interspersed with the Latin, and Rutter's setting of the "Agnus Dei," is, by far, my favorite movement of this work.
The opening text is familiar: Agnus Dei, qui tollis peccata mundi is straight from the mouth of John the Baptist, "Behold the lamb of God, who taketh away the sins of the world." What makes the Rutter unique is the English verses set between each reprise of "Agnus Dei" proclaiming such sentiments as, "In the midst of life, we are in death: of whom may we seek for succour?"
After a build-up, climax, and modal shift that reminds me slightly of Ravel's Bolero, the Chorale and Orchestra do one more repetition of "Agnus Dei" and then enter the denouement in another English verse: "I am the Resurrection and the Life, saith the Lord: He that believeth in me, though he were dead, yet shall he live."

It's soul-stirring and goosebump-raising and I'm honored to be a part of sharing it and the entire Requiem with our audiences in March. Hope you'll join us!
-Rachel Robison